Mike Mann,
Award Winning Custom Knife Maker
Buck Skinner Knife
The Buck Skinner by Mountain Mann! Blade is 3 1/2" 1080 High Carbon Steel, 1/8" thick and tapers to tip. Guard and pins are brass. Full tang handle slabs can be your choice. This knife comes with sturdy leather sheath!
"This one has a no nonsence blade of high carbon steel with nice belly for skinning and cutting and a fine point for detail work like caping. Not big, not bulky...suitable as an all purpose utility knife." says Joe Arterburn, December 2011 Cabela's Outfitter Journal, 'Idaho Knife Works Buck Skinner'.
See also BLADE Mag-June 2014-Knifemaker Showcase-write up by Steve Garger
Nessmuk Knife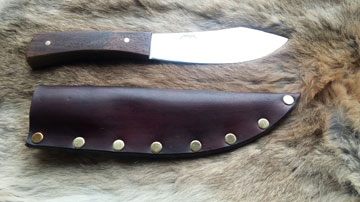 Born George Washington Sears in 1821, he lived with Nipmuc Indians and learned skills of wilderness living. From 1880 - 1890 he wrote of his knowledge and adventures under the pen name of "Nessmuk". After trying out other blade patterns, he developed this knife which became named for him. Experienced woodsman have referred to the Nessmuk knife as the perfect hunter's knife.
Dan Shechtman, Backwoodsman Mag. Sept/Oct 2001
This Nessmuk Knife has a 4 3/4", flat ground, high carbon steel blade that is 1/8" + thick at the hilt and tapers to the tip. The full tang, pinned, 4 1/2" handle can be wood or antler.