Mike Mann,
Award Winning Custom Knife Maker
Satisfied Customers Photos and Comments
Here are just a few of our many satisfied Customers...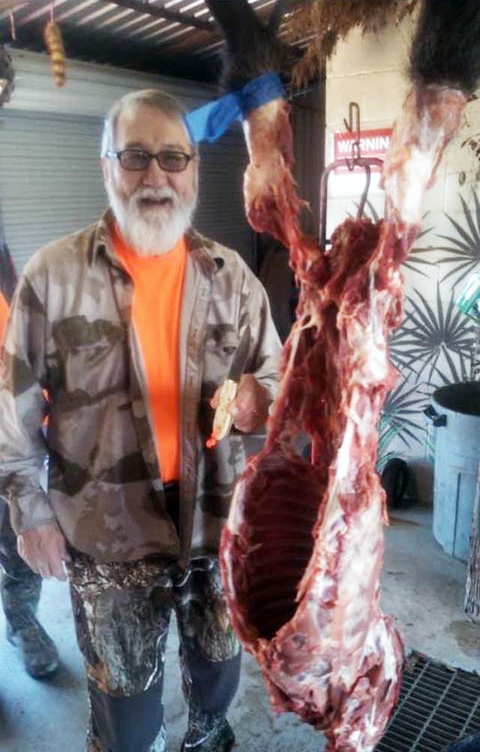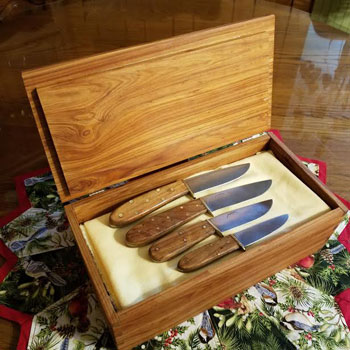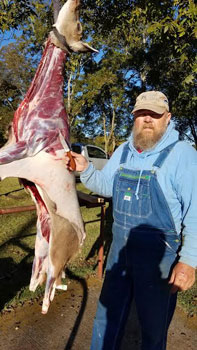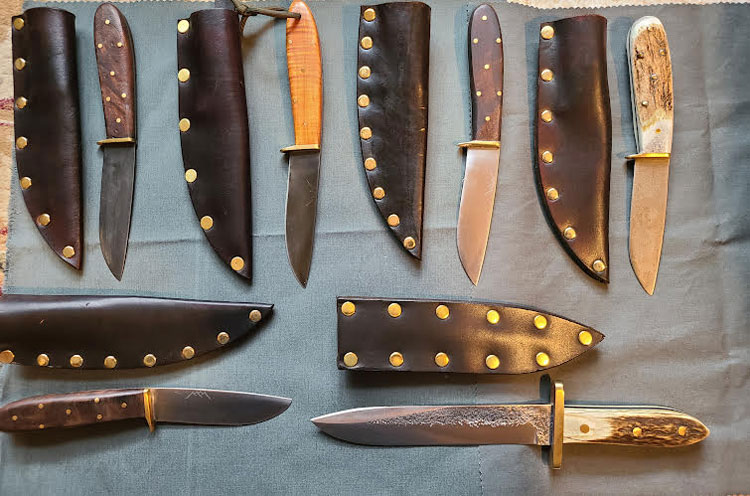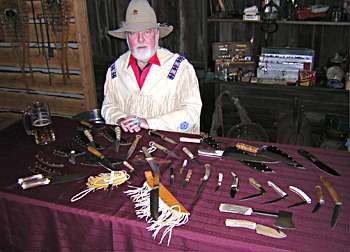 Dave and some of his IKW knife collection.
Since this photo was taken he and his wife, Jo,
have added to their collection. see statement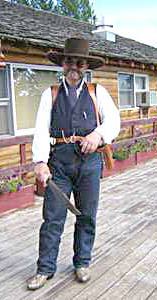 August 2004
Doc Togden with his Big Bowie at Laughing Water Ranch in Montana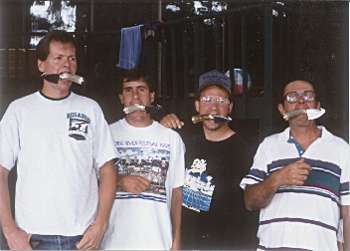 Doug surprises his family with IKW hook knives in 1995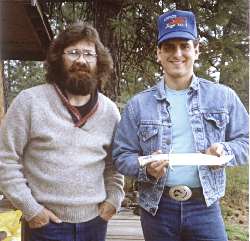 Mike with Monte and his new IKW Bowie
1990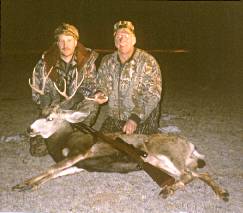 1999 - Neil and his son
Montana hunt with IKW hook knife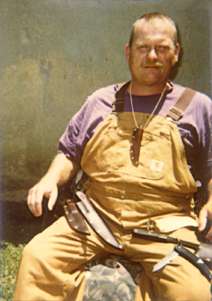 Jeff and his IKW knives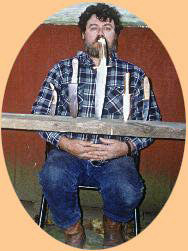 Steven and his IKW knives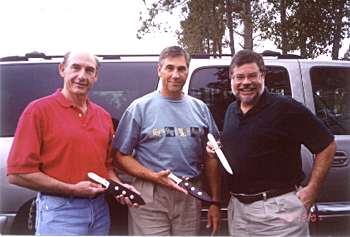 Christmas of 2001 - Brothers & their IKW Bowies.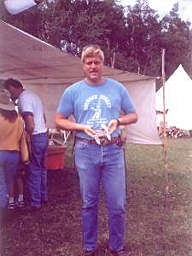 1992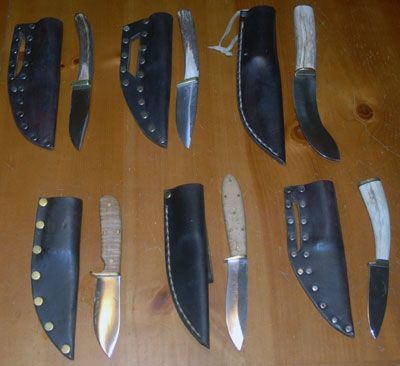 Idaho Knife Works Collection
Big Medicine, w/his IKW Rifleman's Knife and French Folder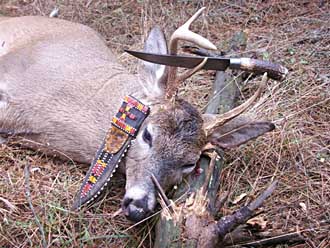 Big Medicine's Buck 2006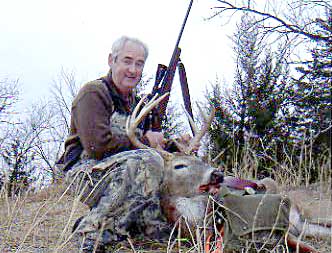 Charlie - Platte River NE... good customer who also became our friend - Rest in Eternal Peace!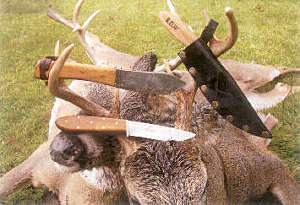 Charlie of the Platte River, NE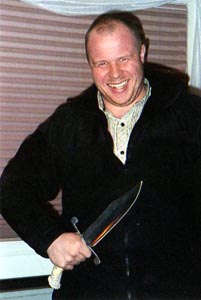 Tristan, 2nd Lt-serving in IRAQ 3/'07 w/Long Hunter Bowie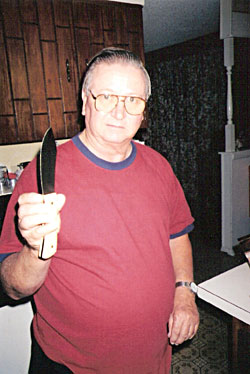 Bud-Happy 59th BD!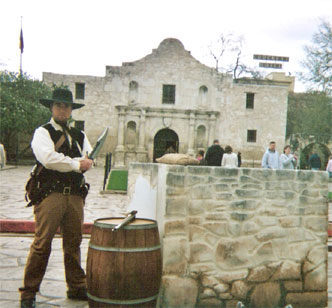 Ted re-enacts Jim Bowie @ The Alamo with his Fighter Bowie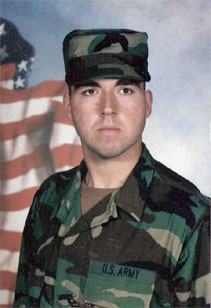 Ted served twice in IRAQ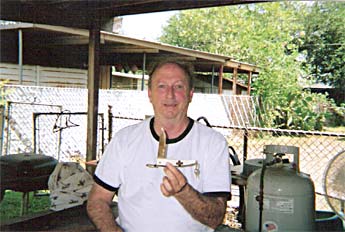 Robert in Texas - The Knife I Carry
May'09 BLADE Magazine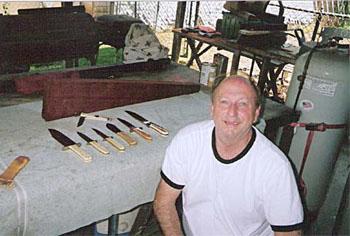 Robert'08w/IKW-6yr collection
"Bob said his brother didn't have much but, what he did have is knives!!"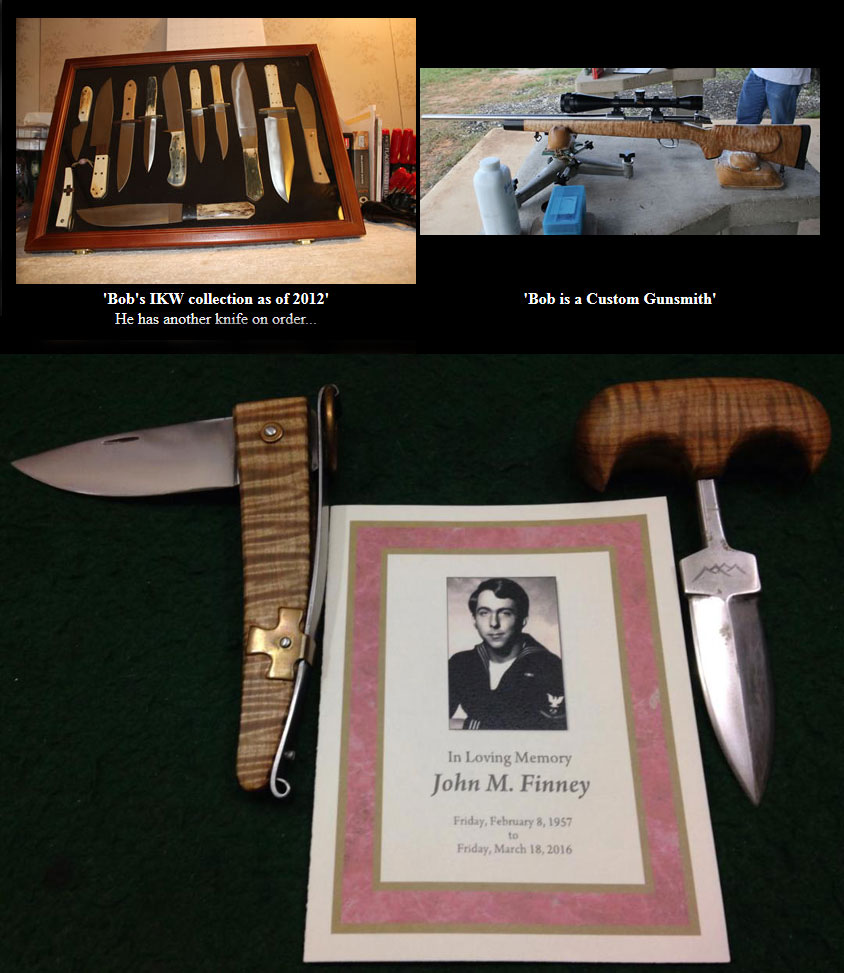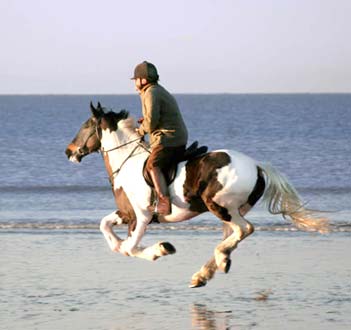 Mr Darcy Feb06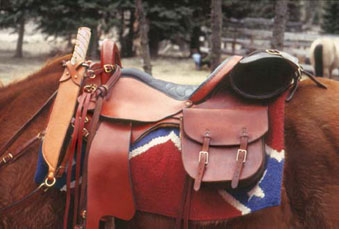 note saddle mounted knife
Dec07 Eric "ON DUTY" w/1847 Bowie at his side!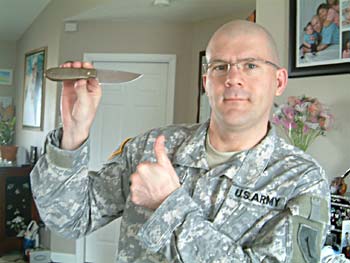 Robert-US ARMY
( click here to see Robert's comments about our knives )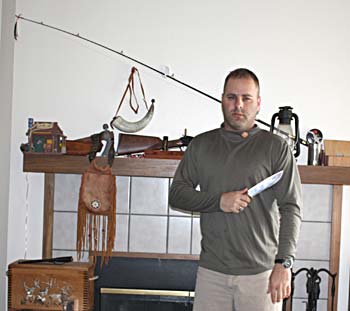 Phillip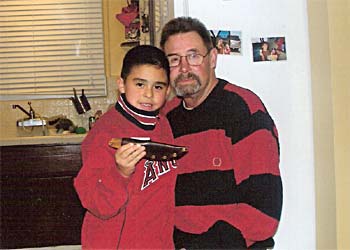 Grandpa and AJ
Hello Debbie and Mike,
You made me a Cliff Hunter with Osage Orange scales back in 2002. After 7 years of hunting, camping, canoeing and rafting I am as delighted with it as the day it arrived in the mail. While it holds an edge well, it also resharpens easily. Skinning and quartering an elk, my hunting partners will struggle to keep their knives sharp, or more often use multiple knives to finish the task. A quick pass over a sharpening steel and my Cliff Hunter is back at it in peak condition.
The ergonomics are also great. It fits in my hand very well and seems "natural". The blade design is excellent for hunting, but also serves as an outstanding camp knife--the role it actually plays most often. Prior to getting my knife from you I had had a number of high priced premium manufacture's knives break or shatter. Your knife with its hard edge, but softer back, has never failed me.
Not only was the knife outstanding, but I still clearly, after 7 years, remember what a great job the both of you did in ensuring I selected the right knife for my needs and that some custom touches, such as a lanyard hole in the handle, were included.
I felt that after 7 years of using such an outstanding product I really owed it to you to write you and say thank you!
Best Regards,
Kevin Kussman
P.S. Do you have a guess on how old the actual Osage Orange wood in the handle is?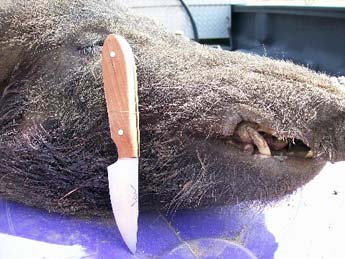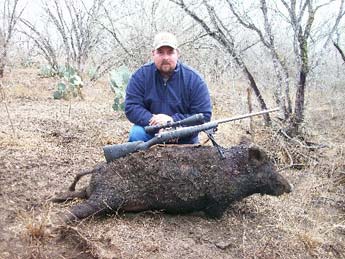 200yd shot on a 200lbs+ hog using a custom built Finney & Dunsirn rifle in .308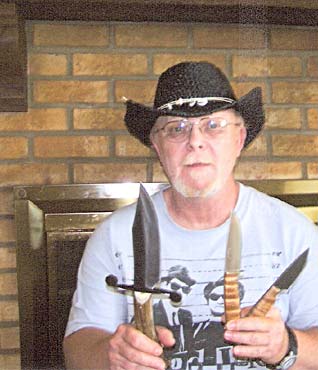 Mike, his new hat & IKW Knives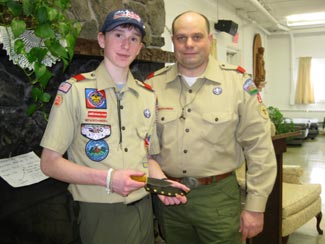 Russell's God Son gets his Eagle Scout and Cliff Knife!
Mike,
I was given an IKW Hunter Companion knife by my friend Bob Finney. The knife looked good, but I didn't know how well it would perform. Well it is deer season now in Texas and I field dressed a deer this past weekend. The knife was a pleasure to use. The size and shape of the blade is perfect for field dressing. The position (height) of the cutting edge in relation to the handle seemed to make the knife easier to handle. I have many good quality comercially made knives that will not be making many hunting trips now as my IKW is the new favorite. Thanks for a great knife.
PS - I am one of your satisfied customers
Bill Forehand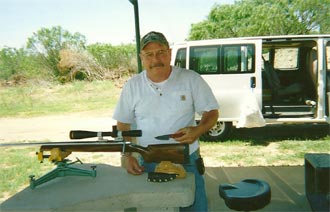 July 2010 - Bill w/new 308 Win & IKW Hunter Companion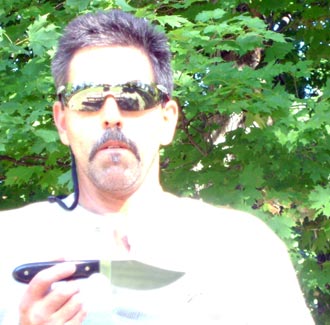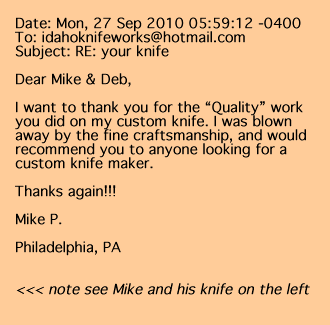 Melisa's IKW Cliff and Ulu Knives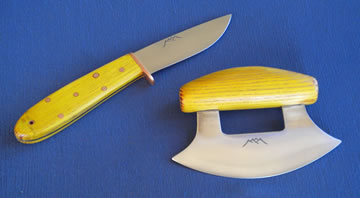 Hi Deb & Mike the Mann,
Thanks so much for the two knives! I absolutely love them! They are both very elegant and neither take up much space in a totally functional capacity. I am very impressed also with the aesthetics! The wood, metal, and leather work is both refined and rustic, which is totally me...
I honestly haven't tried them yet on anything. I suppose I will have to let you both know how that goes over a longer period of time...
The Cliff Canoe Knife I think will be the most useful and celebrated.
The ulu will be something more of an cultural/anthropological journey for me, to fit in a little better with the natives up in Alaksa. I think I'll also just use the ulu for food – and particularly meets like fish that I often buy off the locals, keeping its function hygienically separate.
The leather sheaths are also very well done. I won't have any issues feeling pride in owning these knives for decades and making good use of them.
So I'm an impressed customer... Well done
Melisa
Comments by CW3 Brendan R
To: idahoknifeworks
Subject: I have received my treasure
Date: Mon, 23 Aug 2010 08:16:50 -0700
Dear Padre and Coyote Woman,
I received my knife in the mail yesterday and once I opened it, eyed it and felt it in my hand, I was in heaven. I would have never imagined that a concept for a knife, discussed over the telephone from 12,000 miles away and over three months time, could have come out like this. It is absolutely perfect in every way and everything I had hoped for in a custom made knife.
Mike, you are a true master craftsman and a credit to your trade. Everything about the knife from the beautiful choice of the Elk antler blanks to the file work on the blade is exactly what I wanted. The balance is nice and I really like the heft of it in my hand. I can tell by the feel and weight that it will make a perfect camp/all purpose knife that I do intend to use in all my outdoor chores. As for the sheath, you got it perfect from my description. The blade fits very snug in the sheath and even though there is no clasp, I know the knife will stay seated until it is ready to be unsheathed. The color, stitching and how the sheath will ride on my belt are exactly what I wanted. The brass rivets add a perfect touch to the overall look of the fine leather sheath. I like that you ground down small parts of the rivets to keep with the lines of the sheath. The lighter color stitching really sets off the beautiful rich tone of the leather.
Coyote Woman, as far as a customer relations experience, I couldn't have asked for anyone more knowledgeable and friendly. You are a pleasure to deal with and a true credit to the Idaho Knife Works. Thanks for all of your patience and the informative literature that you sent out about some of the accolades over IKW. That personal touch reassured me that I chose the right family business to create my knife. I would also like to thank you for the "in the works" pictures that you took of my knife while on the bench in Padre's shop. They are as important to me as the finished product.
I will definitely be showing the knife to fellow Green Berets so don´t be surprised if some more orders from Okinawa come your way. I still intend to purchase knives for my sons once they make Eagle Scout and you better believe that they will be coming from Padre's workshop. I will definitely be a repeat customer for all of my custom knife needs. Once again, thank you for a wonderful experience and for a beautiful treasure that I will cherish until I pass it down to one of the kids (maybe). Thanks for all that you do and I look forward to all of our future business. You are both great Americans!
With warmest regards,
CW3 Brendan R.
A Co, 1st BN, 1st Special Forces Group (Airborne)
PS I will be sending some pics of me with the knife for your website.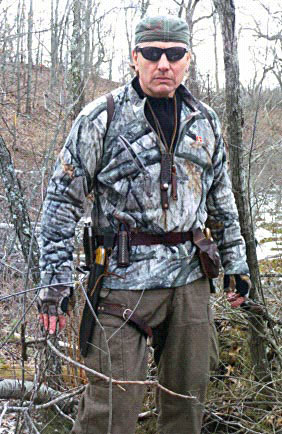 Patrick, Ultimate K-9 "Ready to Rambo"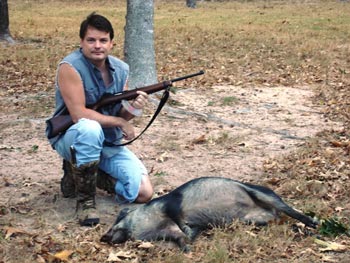 Joe w/IKW boot knife got this pig with open sights at 64 yards w/22 - made 80 pounds of sausage and chops.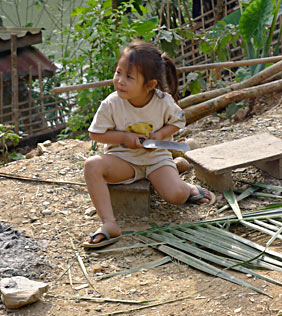 Hi Mike and Debbie,
I am just back from a cycling trip in northern Laos and Thailand with our elder daughter.
On the road I met this young girl. You can't start early enough to use a knife!
I still like the knife you have made for me, thanks so much!
Best regards from The Netherlands,
Didier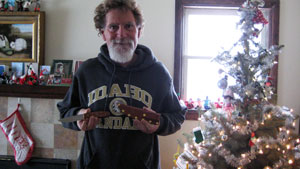 Surprized Dad!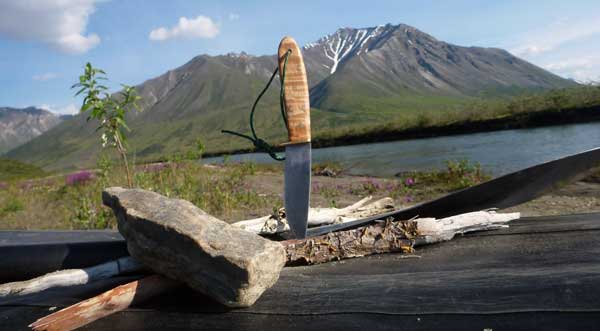 From: Barb and Tom
Sent: Sunday, July 30, 2017 1:57 PM
Subject: The Beautiful Lady
Here is my Lady Cliff at the headwaters of the Noatak River in Northwest Alaska at the start of our 30 day canoe trip.
From: Jake Tanner
Sent: Thursday, July 20, 2017 7:47 AM
Subject: Knife Update
Deb,
Anyways, I love it! From the sheath, to the mosaic pins on the handle, to even the width of the blade... It's perfect. It also feels great in my hand. I haven't done anything with it other than open one piece of mail with it....it's almost to pretty to use haha.
Here is a picture (sorry for the poor quality) of my son Colt Reid Tanner. Above him (unloaded) is his Colt .22 Scout single action made in the early 70's and then his two IKW knifes. His cowboy action rig will be complete when we get his belt and holster.
I want to again express my appreciation for everything. I wouldn't know you from Adam, but you can tell through our few conversations, y'all are genuinely great people. Unfortunately, it's sort of a challenge to find the perfect blend of good people, good business, and a good product.... and in this case American made as well. All I can say is I am happy I found IKW and look forward to our future transactions.
Take care and wish y'all the best!
Jacob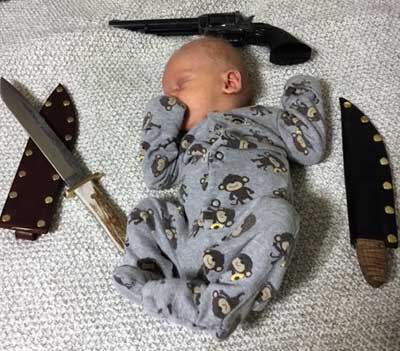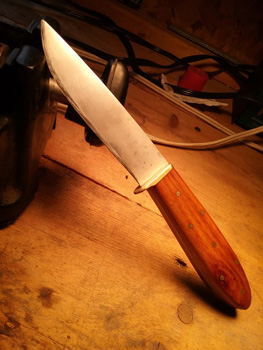 From: Kenneth Weldon
Sent: Friday, May 3, 2019 2:25 PM
To: idaho knife works
Subject: Long term review.

After 6 years of daily (almost)carry, hunting, fishing, foraging and even a little roadside motorcycle repair, this is truely the best all around knife that I've ever had.
Thanks.
Ken Weldon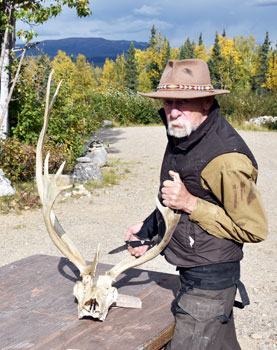 Ron in Denali
long time friend and knife user!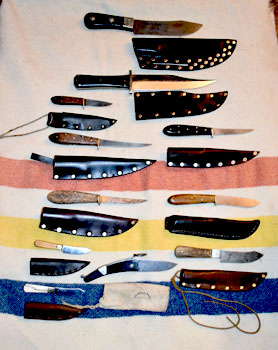 Ron's Collection!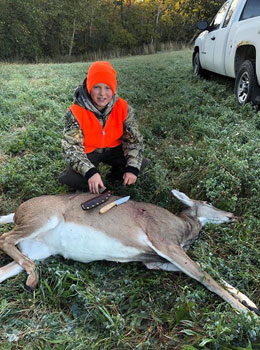 Collin's First Buck!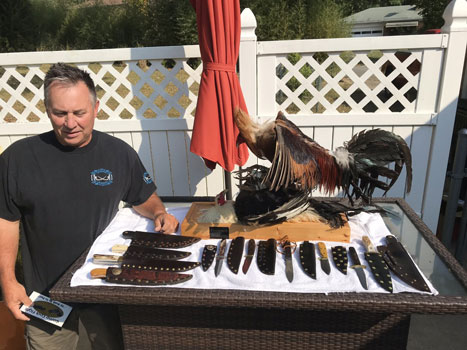 M.Hamer - Taxidermist w/his IKW Collection