Mike Mann,
Award Winning Custom Knife Maker
Idaho Knife Works In the News
---
Movie Knives In the News
IKW Selected As Movie Prop Creator.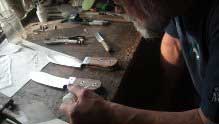 You Bet! When the movie land prop shop needs a great prop for a big hit movie like The Reverant Mike get's to work and produces era knives of only the best quality and period match available.
The Revenant Movie Knives

Movie Knives: The Revenant Special Edition Hudson Bay Knife requested by Tom Hardy who played 'John Fitzgerald' in The Revenant Movie.
Click on the image to check out Tom's Knife.
Now that The Revenant's epic adventure of survival and the extraordinary power of the human spirit has been told look at what is being said a little closer to home.
CDAPress.com posted a great article:
Couple's handcrafted knives featured in 'The Revenant'.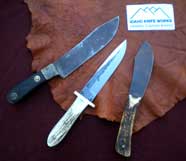 Revenant Movie Knife Props
The three Revenant Movie knives are from left to right, Hudson Bay Knife, San Francisco Bowie and Nessmuk Knife.
Jul 17, 2015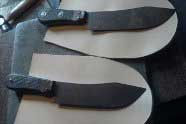 Design for Tom Hardy
This photo of 2 blades are a special knife design for Tom Hardy. One knife was used to make a rubber double.
Check out the official trailer on YouTube: The Revenant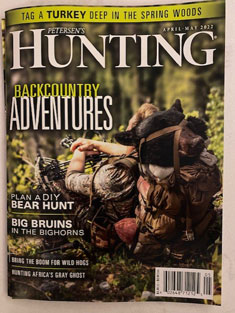 Article by Joe Arterburn
April/May 2022

Nessmuk Style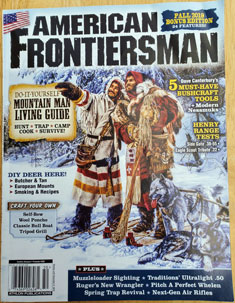 American Frontiersman Magazine Fall 2019
article by Dan Shechtman
Idaho Knife Works
In the article Mr. Shechtman said, "I suppose the highest compliment I can pay bladesmith Mike Mann of Idaho Knife Works is that I have chosen to carry Mike's knives in places where a guy may just have to look to his knife for his survival. Over the 20 years I've known Mike, his knives have been on my belt from the wilderness of Alaska to the Yukon Territory and Northern Canada. Mike forges 5160 spring steel for his Bowie and Hudson Bay knives, 1080 high-carbon steel for his Nessmuk knife, and high-carbon saw steel for his canoe knives.
Mike's woods-ready version of the Nessmuk knife is accurately patterned after the Walt Kneubuhler knife, right down to the mountain-man tack sheath. The 4.75-inch blade is a workhorse, and the Osage-orangewood handle is perfectly suited to hard use over extended periods. Mike's Nessmuk knife, like all of his knives, is crafted for the serious outdoorsman who travels far from the road and must truly depend on his gear." (idahoknifeworks.com)
(Below) Mike Mann of Idaho Knife Works offers a Nessmuk knife that is as woods worthy as it is historically authentic.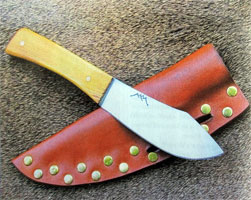 HUDSON BAY KNIFE
American Frontiersman Magazine May 2016 article by Dan Shechtman
"as useful and functional today as it was during the fur trade."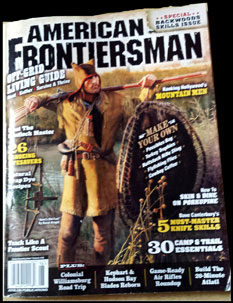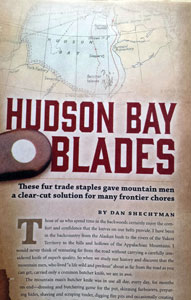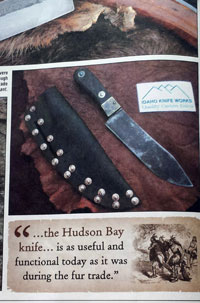 The Truth About Knives May 14, 2016
"5 From the Grinder" with Michael L. Mann (Idaho Knife Works)
I first became aware of Michael and Debbie Mann when reading about the knives in the movie Revenant. Together they are the founders of Idaho Knife Works, which ...
Interview by H. Clay Aalders at The Truth About Knives.
Did you catch this
in Knife World Magazine???
If you are as passionate about knives as we are here at IKW then you probably caught this coverage of Idaho Knife Works in Knife World but in case you didn't your in luck check it out right now by clicking HERE. Knife World has had a recent change in format to Knife Magazine. Check 'em out, don't miss another article.
Idaho Knife Works Celebrates 25 Years
Western Shooting Journal Showcases
Idaho Knife Works
Celebrating 25 Years In Business.
2018 - Jan/Feb Backwoodsman Mag article by Cliff Jacobson "Are Big Blades Best for the Bush?
2016 - Nov/Dec Backwoodsman Magazine article, "Mountian Man's Buffalo Knife" by Dan Shechtman
2015 - May Knife World, Summer Guns of the Old West (Bowies)
2014 - Sept BLADE Mag(BuckSkinner), April Western Shooting Journal(25th yr in business), Fall Guns of the Old West(Bowies)
2011 - Spring Guns of the Old West(Bowies), Dec Cabela's Outfitter Journal(BuckSkinner), IDAHO Hunt & Fish Guide
2010 - Mar Tacticle Knives(Hunter Companion), March Backwoodsman Mag (on the cover!)
2009 - Mar Tacticle Knives(Hunter Companion), May BLADE Mag(Trapper Folder), Sept Backwoodsman Mag (Mystery Knife)
2007 - May(LFK)+Sept(Cumberland & Trapper Folder) Tacticle Knives
2006 - Spring Guns of the Old West(1847 Bowie), Aug Knife World(LFK)
2005 - March Backwoodsman Mag(Hand Axe+Woodsman Knife set), Sept Fur-Fish-Game Mag(Nessmuk Knife)+ Knife WorldHudson Bay Knife), Nov Tacticle Knives(Hudson Bay Knife)
2004 - Jan Tacticle Knives(Large Survival Knife), July SHOOT Mag
2003 - July(Nessmuk)+Nov(Nachez Bowie)Tactical Knives, Sept Backwoodsman(Large Survival Knife), Oct Handguns Mag(Gent's Dress Bowie)
2002 - July BLADE(Woodsman) + Tactical Knives(Woodsman), Oct Knives Illustrated Mag(Cumberland), Nov Cabela's Outfitter Journal, Oct KnifeForums Mag(Nessmuk Knife)
2001 - Jan SHOOT Mag +Tactical Knives (Cowboy Bowies]+Mar, Dec Guns of the Old West(Fighter Bowie), KNIVES ANNUAL(Mtn Man Knives), Feb BLADE (San Fran Bowie) Mag, April MUZZELBLAST Mag(Hudson Bay Knife), May Cowboy Chronicle, Sept Backwoodsman Mag(Nessmuk Knife), Oct Guns & Weapons of Law Enforcement(Woodsman Knife) Nov Tacticle Knives Mag (Hand Axe+Hook Knife)
2000 - Jan Backwoodsman Mag(Cliff Knife), June 2000 Guns of the Old West Mag(San Fran Bowie), Nov Backwoodsman (Alaskan Cliff Knife)
1999 - Feb BLADE Mag(Hudson Bay), July Backwoodsman Mag(Cumberland Knife)+ Tactical Knives(Cumberland+Cliff), Nov No Idaho Business Journal
1998 - Mar BLADE Mag(Knifemaker Showcase), May Tactical Knives(Hand Axe+Hook Knife set),July Backwoodsman Mag(Hudson Bay Knife)
Book "Camping Essential's" by Cliff Jacobson
1997 - March+Sept Tactical Knives Mag(The Cliff Knife), Whitetail Journal Issue 8 (Hudson Bay Knife)
1993 - March Country Extra Mag
1991 - Jan/Feb - BLADE Mag(Cumberland), Fall The Miner (local newpaper), Dec Liberty Bee newspaper in Illinois
1989 - Sept/Oct - Backwoodsman Mag (intro)