Mike Mann,
Award Winning Custom Knife Maker
Personal Gallery
July 2023 - Mike's BDay with Family & Friends
BDay Camping plan got cancelled from heat as well as high fire danger. Mike's BDay celebration @ house was HOT-HOT-HOT! A bit cooler the next day.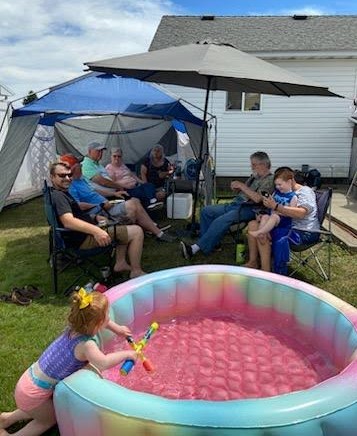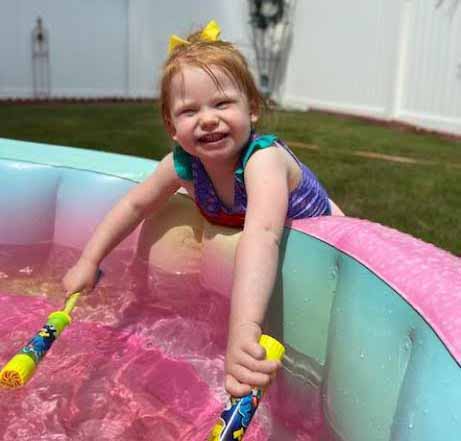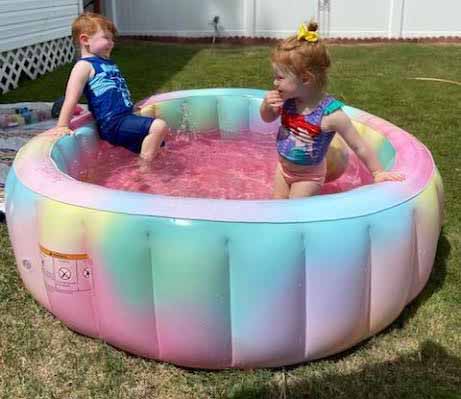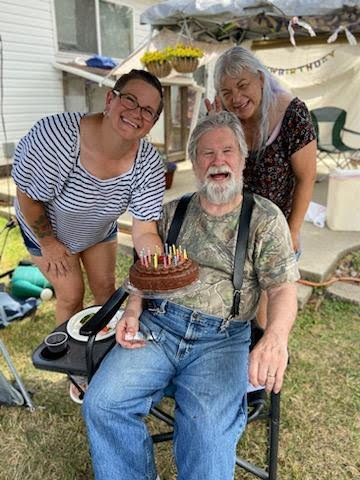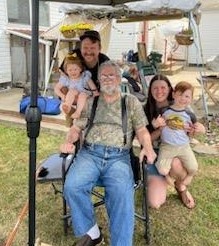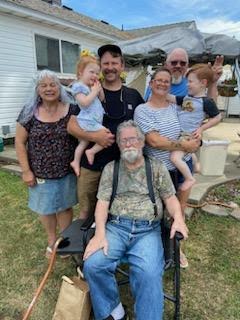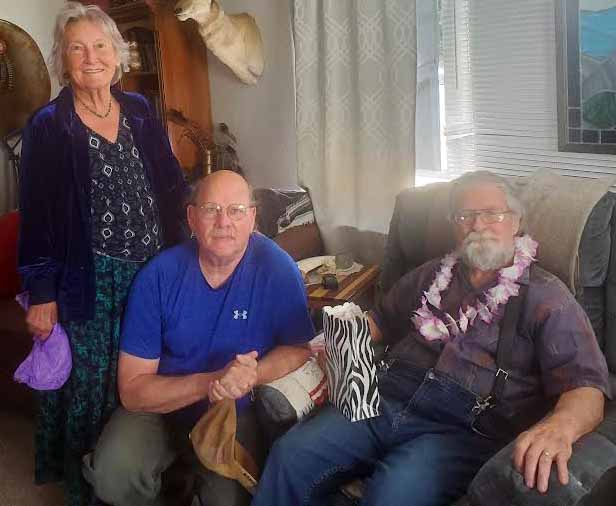 Debbie set up a surprise visit w/loooong time friends!
New Home For Idaho Knife Works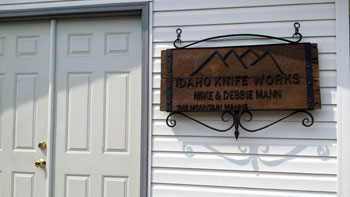 New Shop entrance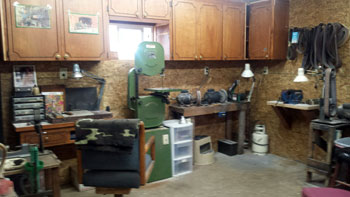 Sheathwork area, wood bandsaw + buffers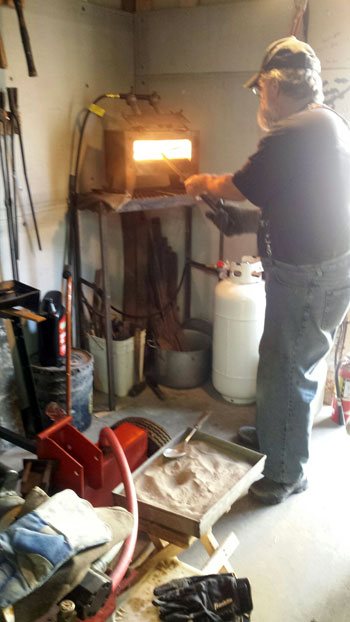 Mike at Forge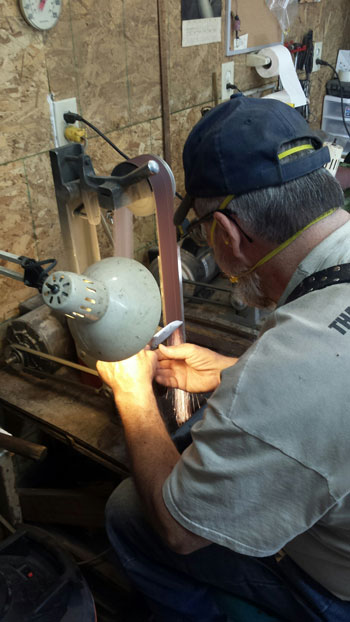 Mike at Beltsander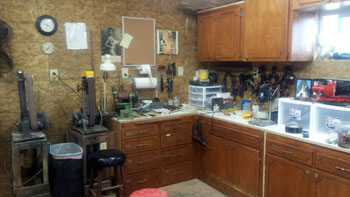 2 Belt Sanders + workbench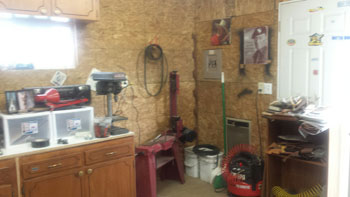 Drill press and metal bandsaw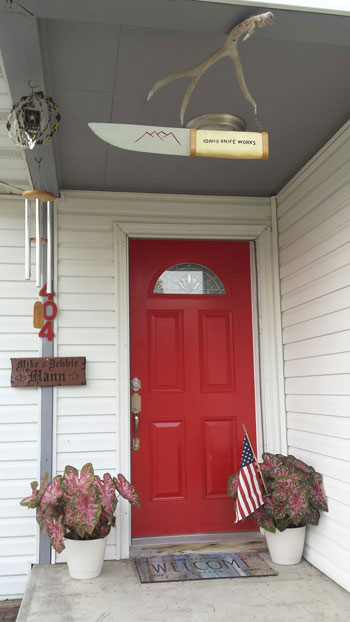 Front Door of house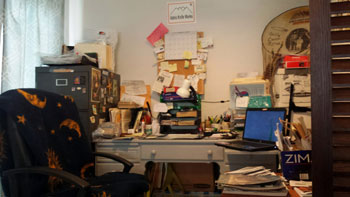 Coyote Deb's Desk
Our beloved mountain home has been sold...
moving our Knife Works shop to North Idaho's Silver Valley.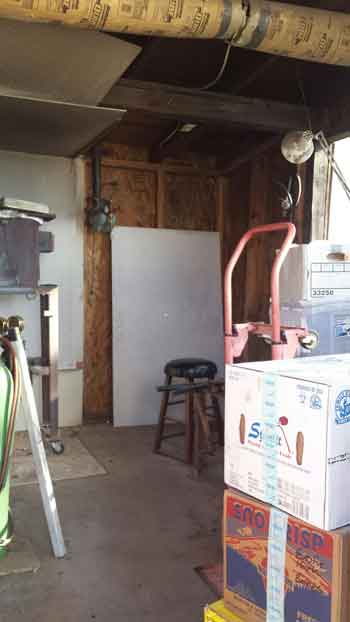 Shop Boxes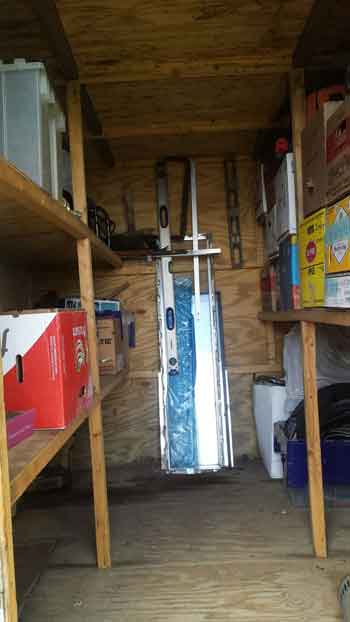 Tool Shed Packed
Empty Top Shelves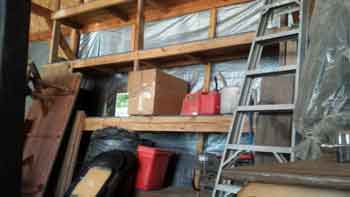 Garage Mostly Packed
Deb & Mike 30th Wedding Anniversary May 14,2013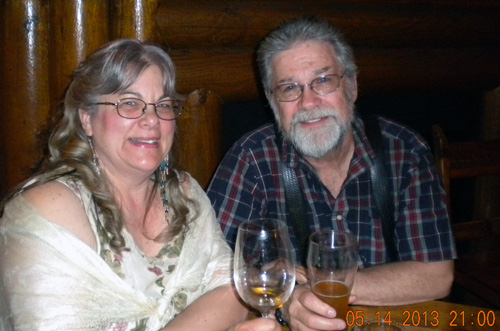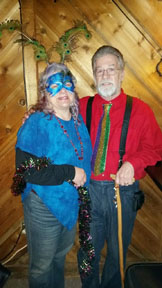 'SweetHeart/Mardi Gras' Feb 2016
After surgeries on neck, lower back and hip replacement in 2015, Mike is back in his shop!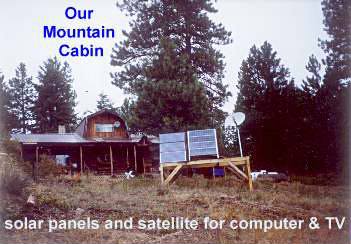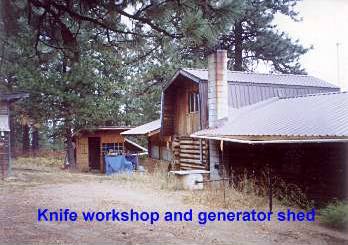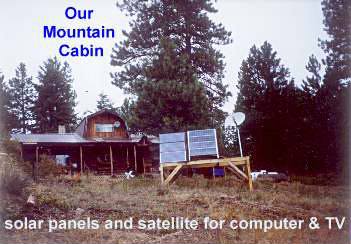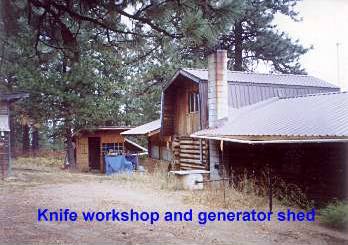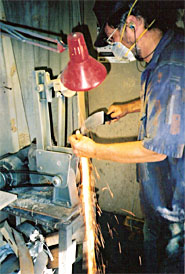 Mike in shop @ Belt Sander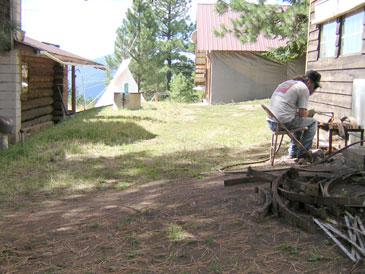 Mike cuts steel w/torch outside of his shop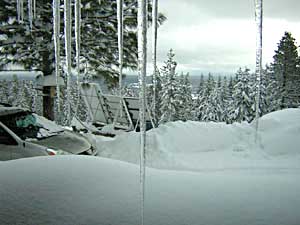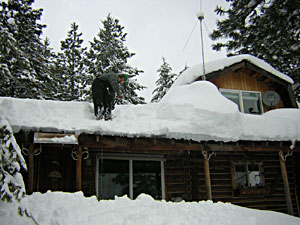 Winter 2008
Our 25th on the mountain was a Record Breaker!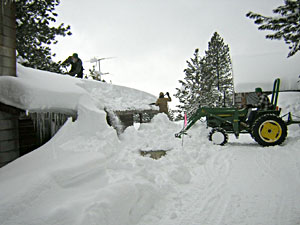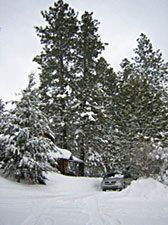 view from Coyote Deb's office window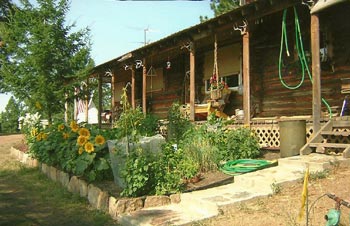 garden in front of cabin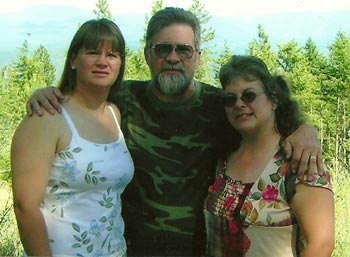 Mike and his two favorite gals, daughter Lisa and wife Debbie
25th Wedding Anniversary Trip May 2008
Our 25th Wedding Anniversary trip mid-May which went mostly good...we went camping in Yosemite Park in Northern Calif. Exchanged special silver rings (Mike made a knife in trade for rings) @ Bridal Veil Falls. Gosh what a 'jaw droppingly' beautiful place! From there we visited friends near San Jose and Sacremento, CA. Then over to see the Redwood Forrest...Amazing to hike thru over 2,000 year old ancient untouched forrest!! North from there along the Southern Oregon Coast and visit some friends near Coos Bay & Lincoln City, OR. Toured some light houses and combed the beach for aggates and driftwood. Then, inland to Salem just south of Portland and finally home-3,047 total miles and lots of adventures!!!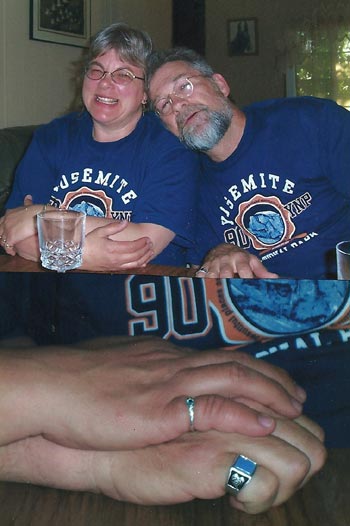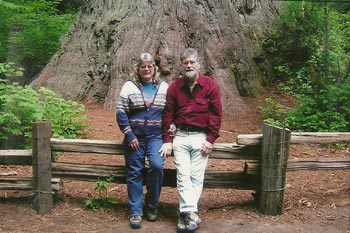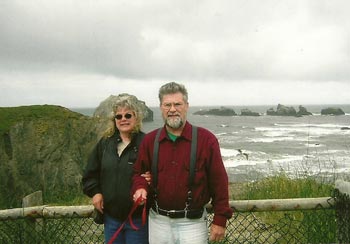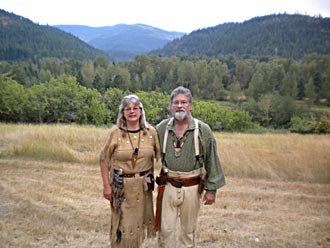 Mike (Padre) & Debbie (Coyote Woman) at Rendezvous August 2010. Hey Chuck, Thought you'd like to see pic of us @ Rendezvous this summer with me wearing the awesome sheath you made!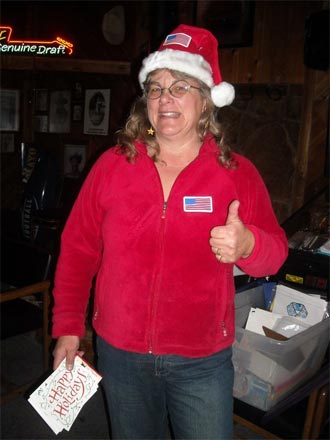 Debbie helps at Troop Support 2010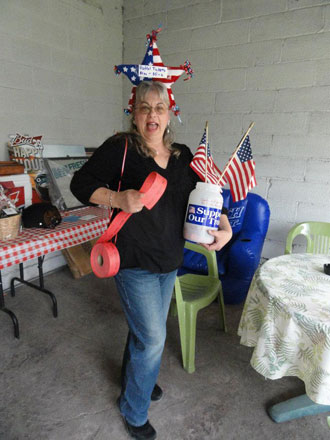 Deb helps Troop Support 2012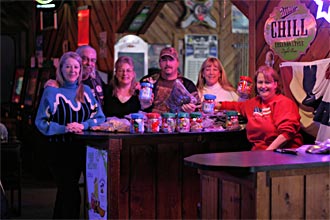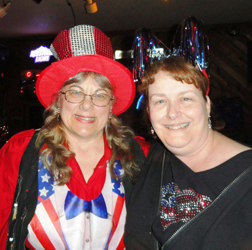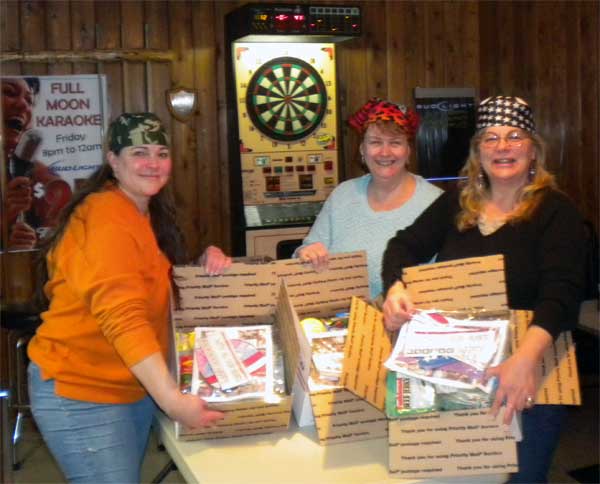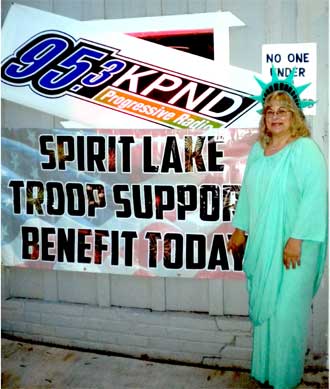 Spirit Lake Troop Support 2014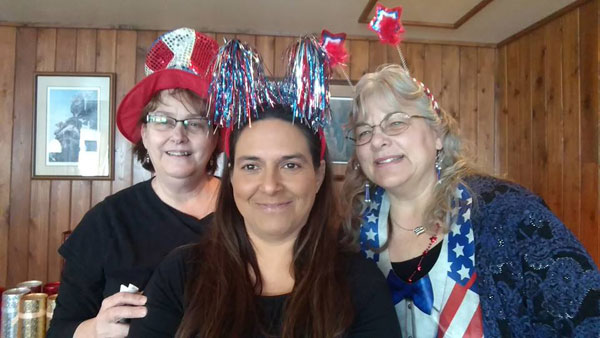 Troop Support 2016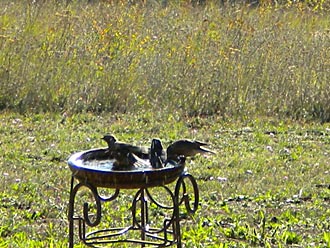 birds splashing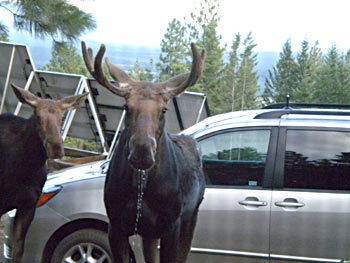 thirsty moose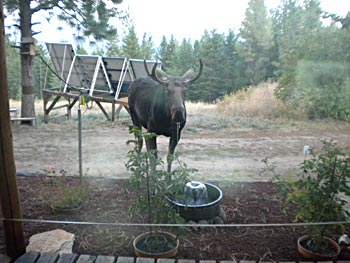 thirsty moose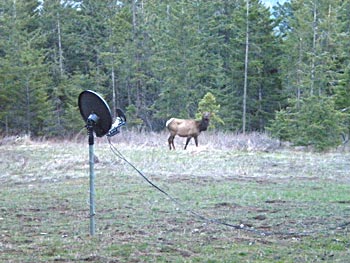 Cow Elk Spring 2011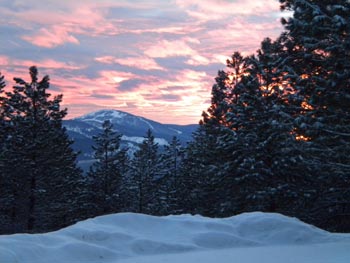 Sunset Jan 2011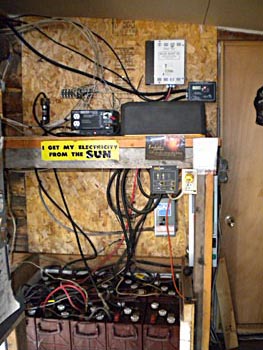 power system as of Feb 2010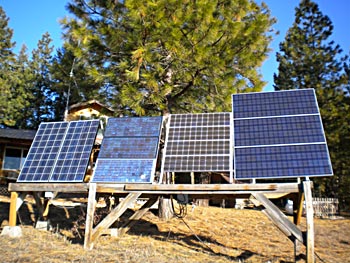 we continue to upgrade our power system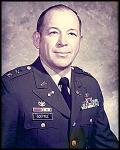 In Memorial

Deb's Beloved Father
Donald James GOETTEL Sr.
(08/26/1929 - 11/10/2013)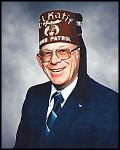 GOETTEL, Donald James Sr. August 26, 1929 - November 10, 2013 Passed to be with the Lord on November 10, 2013. Funeral services will be held at Fairmount Sunset Chapel, 5200 W Wellesley Ave, Spokane, WA 99205 at 11 am on Saturday, November 16, 2013. A time of visitation will be held at Heritage Funeral Home on Friday, November 15, 2013 from 10 am to 5 pm. Memorials may be made to The Shriners Hospital for Crippled Children.
He was born August 26, 1929 to Grace (Heirgood) and Carl Goettel. Don grew up on the family ranch homesteaded in the late 1880's in Spokane Valley. He went to Hutton Grade School then graduated Lewis & Clark High School in 1947. He then went on to higher education-Bachelor of Science degrees in both Mechanical (WSU) and Electrical engineering (U of AZ), a Masters degree in Public Admin (from Shippensburg, PA) plus additional graduate level courses in business and engineering. At Washington State University he joined ROTC. Upon graduation in 1951 he entered the United States Army and achieved the rank of Full Bird Colonel before retiring in 1976. He also graduated from the US Army War College in 1973. His decorations include three Legion of Merit, four Bronze Stars and a Silver Star! He was a member of the Manito Masonic Lodge, Scottish Rite Bodies, El Katif Shrine, Manito Presbyterian Church for many years and more recent years, St Stephens. He was a Member of Manito Golf and Country Club. He enjoyed golf (won MANY trophies), playing cards (often won), bowling and hunting many pheasant. He was also an Eagle Scout and the State Champion football player at LCHS. He did a lot of volunteer work..."to give back to the community" he said. He and his wife enjoyed travels that brought them to every continent in the world!
Don is survived by his wife of 59 years-Dottie from New Jersey and four children-Debbie, Lynn, Richelle and Donald Jr. along with grand and great-grandchildren! Wonderful memories will keep him close to all who knew and loved him.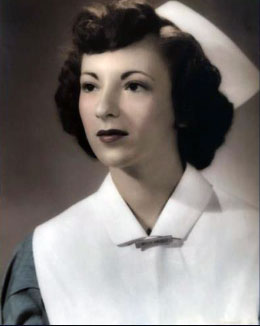 In Memorial
Deb's Beloved Mother
Dorthy Genevieve Goettel
(03/9/1933 - 1/6/2023)
GOETTEL, Dorthy Genevieve passed to be with the Lord on January 6, 2023 in Spokane, WA. She was born March 9, 1933, in Philadelphia, PA, and grew up in Long Branch, NJ. She was the second of three girls born to Vincent and Marie Vincelli.
Dottie graduated from the Ann May School of Nursing and received her RN degree in 1954. She married Donald J. Goettel in July of 1954 in New Jersey. Her husband was an officer in the U.S. Army, and they spent their early married life moving frequently, as Don was stationed in places including Germany and Washington D.C.
She and Don raised four children (Deborah, Lynn, Richelle, and Donald Jr.). After Don retired, they moved to his hometown of Spokane in 1976. Dottie enjoyed travelling and visited all 7 continents in their retirement years! Their home was decorated with mementos collected throughout their travels. She was a member of Manito Presbyterian Church and then St. Stephen's Episcopal Church, both in Spokane. She and Don were also members of the Manito Golf & Country Club. Dottie was also a proficient knitter and crocheter. She created and donated over 500 hats to various local charities. She also made countless quilts for the Vanessa Behan Crisis Nursery.
Dottie is preceded in death by her parents, husband and older sister Rosie grandinetti. She is survived by her children: Deborah L. Goettel-Mann & husband Michael, Lynn Roundtree, Richelle Goettel, RN., BA and Donald J. Goettel Jr. and wife Cathy; and her sister Joan Day. She was a proud grandmother to 6 grandchildren and 8 great-grandchildren.
A memorial & internment of her ashes will be set at a later date. In lieu of flowers, donations can be made to the Vanessa Behan Crisis Nursery.
Heritage Funeral & Cremation
508 N Government Way, Spokane, WA 99224